No matter how organized and well-maintained your garage is, you can always find expired first aid boxes, broken tools, and some other things that are not needed anymore. One of the best ways to keep your garage organized is that you will have to utilize the wall with various shelving.
Garage: Are they considered to be the house's important part?
Although garages are the places that hold 60% of our household gear yet they are not considered necessary by homeowners. Because this is one of the less frequently visited places since it holds:
Kitchen and house cleaning supplies.
Some papers.
Mechanical gears.
Vehicles and cycles.
Sport gears.
A garage holds a lot of value when you are selling your house. It adds more value to the home which is beneficial for one. A garage is where you will be parking your car and cycling. These places need to be given more attention than most homeowners do not.
Benefits of keeping your garage organized.
There are several benefits that you can gain by keeping your garage organized by using garage storage tools.
By keeping your garage organized, you can find your things without panicking.
The garage storage tools are beneficial for one since they will keep the items safe and they will be easy to find.
There will be more floor space which will help the garage to give off a presentable overall outlook.
Here are some top garage storage tools that will help keep your garage well-maintained. These tools will primarily utilize the wall space because you will have plenty of floor space.
For walls, the organization hangs pegboards.
If there is a lot of wall space, then utilizing is your best option. Hanging a pegboard is helpful since it will keep most of your mechanical gears hanged to it, giving the garage a neat outlook. Pegboards are used to hang small and lightweight items. You can also customize your pegboards by installing more shelving and basket systems.
For a fully customized garage, install salt walls.
Salt walls are considered the best option if you want to hang more oversized items on your garage walls. Since pegboards can't hang more oversized items, utilizing salt walls is the best contribution to keeping your garage organized.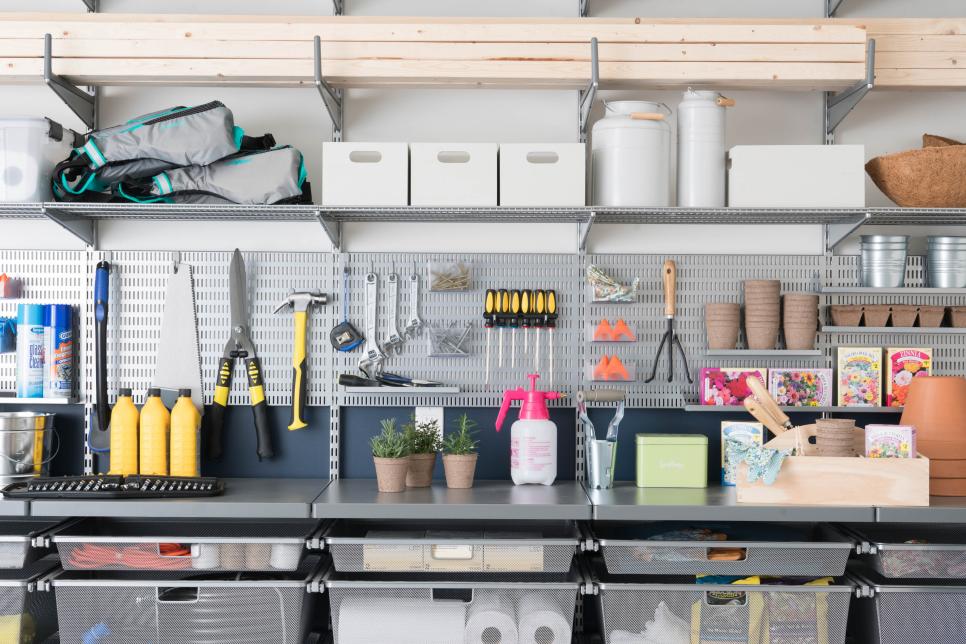 Install Cabinet System
Garage cabinets contribute to utilizing more wall space and keeping the clutter away from the floor. These cabinets allow you to keep all unattractive items away from sight. This will help to make the place look cleaner and more sociable.
Installing a cabinet system in your garage will help keep many other things organized and easy to find. Investing in this item is undoubtedly recommended.
Use wire-shelving
Wire shelves can be a cost-effective alternative to cabinets for garage storage. This clever solution for maximizing storage in the garage may be used for anything from gardening equipment to seasonal decorations. Wire shelves are just as sturdy as metal ones but take up much less room. Wire or metal, your garage shelves should be placed with adequate clearance under them for easy sweeping.
Use storage containers
Invest in plastic containers since they are easy to carry and stay within one's sight.
Label the plastic storage containers, so you know the items that have been stored inside them.
Put these plastic storage containers on the top of cabinets so that there is more floor space to keep the garage well-maintained.